Aga Khan IV - Timeline - 1965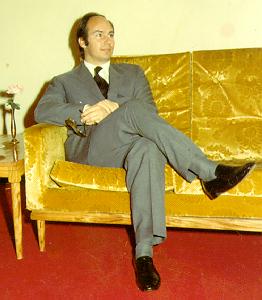 1965
June 1, 1965: Donated Rs. 150,000 to Dacca Press Club.
June 23, 1965: Gave dinner in London in honour of Field Marshal Mohammed Ayub Khan, the President of Pakistan.
August 4, 1965: Paid first visit to Abidjan Jamat. It was also a State visit to Ivory Coast. The President decorated Prince Karim Aga Khan with the highest order of the nation, the "Grand Cross of the National Order".
August 4, 1965: The Mayor of Abidjan conferred the honour of "Freeman of Abidjan" and presented Hazar Imam with the "Golden Key" to the city.
August 5, 1965: On his way to Europe, stopped at Ougadougou, capital of Upper Volta. The President conferred on him the highest national title, the "National Order".
August 19, 1965: Donated Rs. 50,000 for Hafizabad Municipal College, the Assembly Hall of which has been named "His Royal Highness Prince Karim Aga Khan Hall".
December 12 and 19, 1965: The London Sunday Times published a long interview in which Mowlana Hazar Imam said, "Since my grandfather, the late Aga Khan died, I have been the bearer of the Noor' which means Light. The Noor has been handed down in direct descent from the the Prophet (s.a.s.)."
December 1965: Hazar Imam's interview entitled "The Dilemma that faces the Ismailis" given to Nicholas Tomalin.
December 1965: Mowlana Hazar Imam's uncle, Prince Sadruddin, was unanimously elected U.N. High Commissioner for Refugees.

PHOTO ALBUM 1965
6500544j

Mowlana Hazar Imam meeting the Scouts Master, Mombasa 1965


Timeline Main Page