Aga Khan IV - Timeline - 1967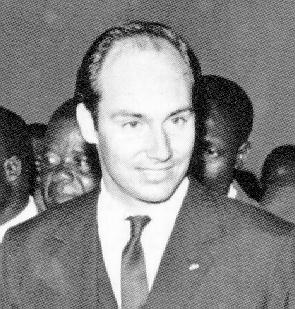 1967
January 24, 1967: The Aga Khan Foundation was established with headquarters in Geneva.
January 25, 1967: Inaugurated Second Sitting of the Standing Committee of World Ismailia Socio-Economic Conference (WISEC) at Geneva.
January, 1967: Attended the opening ceremony of the casualty ward at the Aga Khan Hospital, Nairobi.
January 26, 1967: Visited Ismaili Centre at Lausanne, Switzerland.
March 11, 1967: Arrived in Nairobi for the opening of the I.P.S. Building by President Jomo Kenyatta. Visit lasted four days.
March 14, 1967: I.P.S. Building opened.
March 15, 1967: Arrived in Abidjan, Ivory Coast. Performed opening ceremony of a jute mill, the first I.P.S. project there.
March 29, 1967: Flew to New York for a fortnight's visit to U.S.A.
June 7, 1967: Visited Ismaili Centre in Paris where Ismailis from Europe and other parts of the world had gathered.
July11, 1967: Completed ten years of Glorious Imamat. Commemorative coins were issued to celebrate the events.
August 19, 1967: Meet Royal guest.
Ocober 15, 1967: Gave an interview to Anne Loesh for the Magazine Jeune Afrique. The interview was published under the title "Karim Aga Khan, prince de l'Islam et homme d'affaires" with a brief introduction to Ismailism.
October 26, 1967: Participated in the historic celebrations of the coronation of Shah of Iran
November 5, 1967: Arrived in Bombay on 23-day State visit to India. Toured Bhavnagar, Malia Hatina, Ahmedabad, Sidhpur, New Delhi, Nagpur, Yeotmal and Hyderabad.
November 8, 1967: Performed brick-laying ceremony for nursing home of Ismaili General hospital, Bombay.
November 10, 1967: Declared open new Jamat Khana at Andheri.
November 15, 1967: Arrived in New Delhi to grand red carpet welcome at the Palam Airport. Guest of Honour at Government dinner.
November 16, 1967: Attended luncheon given by President Zakir Husain, met Prime Minister Indira Gandhi, Deputy Prime Minister Morarji Desai and Home Minister Y.B. Chavan
November 17, 1967: Gave banquet in honour of Vice-President V.V. Giri. Announced gift of Aga Khan Palace at Poona to Government for memorial to the late Mahatma Gandhi.
November 19, 1967: Visited Yeotmal, centre of Shahid. First Imam to visit the place in 1400 years. Laid foundation stone of new Jamat Khana.
November 23, 1967: Attended reception given by Sheriff of Bombay and 51 prominent institutions. At Rotary Club dinner, delivered speech on "Certain Aspects of Development in the Newly Independent Nations".
November 25, 1967: Attended grand civic reception at Kamala Nehru Park, Bombay.
November 26, 1967: Historic Darbar in celebration of Prince Karim Aga Khan's 10 years of Imamat at Hasanabad, Bombay.
November 27, 1967: Attended luncheon given by Syedna Mohammed Burhanuddin Saheb, religious head of the Bohora community at Saifee Mahal, Bombay.
November 28, 1967: Left Bombay, arrived in Rawalpindi. Had lunch with President Ayub Khan. Arrived in Karachi.
November 30, 1967: Was given honorary Doctorate of Law (Honoris Causa) by Peshawar University. whether it be the cause of Muslims in pakistan, so dear to his fore-bearers and to himself, or in the far distant Philippines, his generosity has enhanced all."
December 13, 1967: Celebration of thirty first birthday.

PHOTO ALBUM 1967
Rue de Ursins, au coeur du Vieux Paris, Karim Agha Khan habite un palais concu par l'architecte Pouillon. C'est le businessman moderne que montre notre photo. Et la Seine "qui se prelasse dans les fenetres"


Mowlana Hazar Imam at the Standing Committee's meeting of the World Ismaili Socio Economic Conference (WISEC) in Geneva, where Mowlana Hazar Imam announced the establishment of The Aga Khan Foundation.


Mowlana Hazar Imam with His Royal Guest, Princess Margaret. 6711613d
Mowlana Hazar Imam
Convocation address at Peshawar University of Pakistan November 30, 1967.


Mowlana Hazar Imam with Governor Mohammed Musa Khan at the Convocation.


Mowlana Hazar Imam receiving the Degree of Doctor of Laws.


Timeline Main Page