Aga Khan IV - Timeline - 1979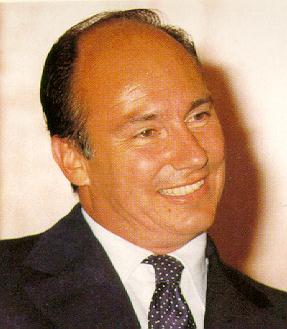 1979
1979: An agreement was drawn up between the Aga Khan University and McMaster University, Hamilton, Ontario, to establish a four-year educational program for nurses who will teach at the new School of Nursing. (click here)
1979: Hazar Imam sent a message for the Health Seminar which the Aga Khan Central Board of Pakistan and UNICEF had organised to commemorate the International Year of the Child. (click here)
1979: The "Hikmat" magazine published in U.K. contained an article entitled "The Aga Khan Program for Islamic Architecture"
March 7-10, 1979: Hazar Imam gave guidance to leaders of western countries Jamats at the St. Moritz conference. (click here)
March 24, 1979: <!-a href= ../speech/s790324.html>Opening of Karimabad Maternity Home in Karachi, Pakistan, marking the 55th anniversary of dedication to medical needs of Pakistan by the family of the Aga Khan.
March 26, 1979: <!-a href= ../speech/s790326.html>Third Architectural Awards seminar held in Jakarta, Indonesia. "Housing" was the theme in this seminar and Hazar Imam said; "There is a serious paucity of men and women able to understand and resolve the practical, cultural, social and aesthetic needs of an evolving Muslim world" (click here)
March 29, 1979: Concluding Remarks given by Hazar Imam at the Third Architectural Awards seminar (click here)
April 9, 1979: The Institute of Ismaili Studies, under the Chairmanship of Mowlana Hazar Imam announced a scholarship programme for Ismaili students for courses in Islamic/Ismaili Studies.
April 21, 1979: Mowlana Hazar Imam delivered a speech to the Architectural League, New York.
May 22, 1979: Chaired a meeting of the Institute of Ismaili Studies. Waezeen and Teacher Training Program announced for October 1979.
May 27, 1979: The Quiet Prince Of Islam" was the title of an interview published in the Sunday Telegraph Magazine No. 140 by Anthony Mann.
September 1-7, 1979: Mowlana Hazar Imam and Begum Salimah visited the United Kingdom Jamat.
September 2, 1979: Mowlana Hazar Imam addressed a very large gathering of students.
September 3, 1979: Ismailia women's Organisation hosted tea party in honour of Begum Salimah.
September 4, 1979: Hazar Imam's speech at the luncheon hosted in their honour by the Lord Mayor of Birmingham. Mowlana Hazar Imam donated 10,000 Pounds to the League of Friends of the Birmingham Children's Hospital.
September 6, 1979: Hazar Imam was interviewed on BBC Radio 4 by Michael Charlton in London. (click here)
September 7, 1979: The Noorani Family witnessed the foundation stone-laying ceremony of the Ismaili Centre London, performed by Lord Soames.
1979: Mowlana Hazar Imam opened the Karimabad Maternity Home, Karachi.
September 22, 1979: Mowlana Hazar Imam met with President Bok of Harvard and President Weisner of Massachusetts Institute of Technology to discuss the Aga Khan Award for Architecture.
September 25, 1979: Delivered a speech on "The Physical Structure of Islam" to the Asia Society in New York.
October 1979: <!-a href= ../speech/s791000a.html>Fourth Architectural Awards Seminar held in Fez, Morocco.
October 9, 1979: Closing Remarks given by Hazar Imam at the Fourth Architectural Awards seminar.
October 22,1979: Mowlana Hazar Imam and Begum Salimah visited Ivory Coast where he had long discussions with President Houphouet Boigny at Yamasoukro. Discussions of economic matters with various Ministers took place before meeting with Ismaili Community in Abidjan. Hazar Imam has several industrial projects in Ivory Coast such as FILTISAL, SIPACCI and I.P.S. according to the "Fraternite Matin" newspaper.
October 24-31, 1979: Mowlana Hazar Imam and Begum Salimah visited Bangladesh. Several Cabinet Ministers called on Mowlana Hazar Imam during the stay.
October 30, 1979: Prof. Shamsh ul Haque, the Foreign Minister, hosted a lunch in honour of their Highnesses. They visited the Jamat at Karimabad and attended a dinner hosted by President and Begum Zia-ur-Rahman.
October 31, 1979: Mowlana Hazar Imam and Begum Salimah arrived in Melbourne, Australia, as special guests of the Victoria Racing Club for the Spring Carnival. Hazar Imam had requested that time be made available for Him and Begum Salimah to be able to visit the Jamat.
November 7, 1979: Attended lunch in their honour at Royal Sydney Yacht Squadron. Mowlana Hazar Imam had his first mulaqat with the Australian and New Zealand Jamats. A total of 141 Ismailis, 134 from all over Australia and 7 from New Zealand were present for the Holy Deedar. Special Souvenir Medals were made to mark this auspicious occasion.
November 7, 1979: Hazar Imam and Begum Salimah attended a Tea Party at 5:45 p.m. In his speech, Hazar Imam said; "We spent our 10th wedding anniversary flying from Paris to Dacca and I think not many men can offer their wives a less inspiring anniversary at 42,000 feet" (click here)
November 1979: Begum Salimah gave an interview to Anne Matheson of the Australian Women's Weekly.

PHOTO ALBUM 1979
Mowlana Hazar Imam and Begum Salima attend the Third Seminar for AKAA in Jakarta.


Mowlana Hazar Imam at the fifth Seminar in Amman.(AKAA)


Mowlana Hazar Imam
portrait
Bangladesh visit.


Mowlana Hazar Imam and Begum Salimah
1979


Mowlana Hazar Imam and Begum Salimah
1979


Mowlana Hazar Imam and Begum Salimah, UK visit, July 1979


Mowlana Hazar Imam giving a Farman to the UK Jamat, September 1979


Mowlana Hazar Imam and Begum Salimah being greeted on the visit to the Institute of Ismaili Studies in London, 1979


Mowlana Hazar Imam in a meeting with the Steering Committee (September 1979) Professor Dogan Kuban, Mr. Hasan-ud-din Khan, and Professor Renata Holod.


Mowlana Hazar Imam during the meeting.


Mowlana Hazar Imam and Begum Salimah with the Gover of Sind Lt. Gen. S.M. Abbasi and Begum Yasmin Abbasi on their brief stop-over at Karachi Airport.


Arrival at the Sydney Airport, October 1979


Mowlana Hazar Imam and Begum Salimah cutting their anniversary cake, offered to them by the Australia Jamat, 1979


Mowlana Hazar Imam, Australia, 1979


At a tea party in Australia, 1979


Mowlana Hazar Imam at the Didar, October 1979


Mowlana Hazar Imam addressing the Australia Jamat, October 1979


Mowlana Hazar Imam and Begum Salimah arriving in Bangladesh, 1979


Mowlana Hazar Imam during His visit to the Sub-continent Pakistan


Timeline Main Page